Welcome to Chalet Hills Golf Club Course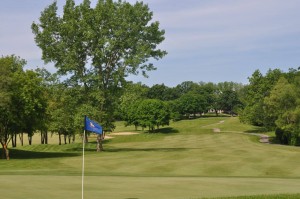 Picture a golf paradise. A championship course nestled among mature hardwood trees and pristine wetlands with sculptured fairways, bentgrass from tee to green, scenic lakes and ponds left behind by the moraine glacier. You are envisioning Chalet Hills Golf Club….
Golfers are expected to wear golf attire at all times. Cut-offs, running and basketball shorts, worn or torn jeans, undershirts, tank tops and the like are prohibited. All golfers are required to wear non-metal spike golf shoes.
Each foursome must keep up with the preceding foursome in order not to delay play. All rounds of golf are expected to be played in 4 hours 30 minutes or less. If appropriate pace of play is not observed, players will be notified accordingly and informed of what course of action will be administered by player assistant on duty.
Course Availability
&

Starting Times
All players will begin from the number one tee at all times unless otherwise instructed by golf shop or starter on duty and must check in at the pro shop prior to play.
All carts must be rented from Chalet Hills and must remain on golf course property. Privately owned golf carts are not permitted on golf course at anytime. No one under the age of 16 is permitted to operate a golf cart.